Support Planet Judo
If you have any suggestions for Judo sites for inclusion in any of the three languages; please email Lance
Would you like to see this site remain online and continue to improve? Then please consider donating via the PayPal button below. Every Penny/Cent/Euro helps.


Hajime Judo : CAMPEONATO DEL MUNDO SENIOR CHELYABINSK 2014. Del 25 al 31 de agosto.
Infografía del aspecto que tendrá el tatami en Chelyabinsk.
VENTA DE ENTRADAS - ENLACE
WEB OFICIAL DEL EVENTO
Source: Hajime Judo : CAMPEONATO DEL MUNDO SENIOR CHELYABINSK 2014. Del 25 al 31 de agosto. | 25 Aug 2014 | 1:34 am

Hajime Judo : COPA DE ESPAÑA SENIOR DE VALENCIA. Sábado 2 de agosto de 2014.
LISTADO PROVISIONAL DE INSCRITOS.
El próximo día 2 de Agosto, a partir de las 9 de mañana, en las instalaciones del Polideportivo Municipal de Benicalap se celebrará la I Copa de España Absoluta de Judo de Valencia.
CIRCULAR I COPA ESPAÑA ABSOLUTA VALENCIA
LISTA PROVISIONAL INSCRITOS COPA ESPAÑA
Del 4 al 8 de agosto tendrá lugar la Concentración Pre-Mundial con la participación de los integrantes del equipo nacional absoluto.
CONCENTRACION PREMUNDIAL DE VALENCIA
Source: Hajime Judo : COPA DE ESPAÑA SENIOR DE VALENCIA. Sábado 2 de agosto de 2014. | 1 Aug 2014 | 12:00 pm

BetterJudo.com : Exciting Partnership
It gives me great pleasure to announce that Better Judo is joining forces with Isvael Sport (2x Olympians Israel Hernandez and Valerie Lafon Gotay) to bring the Judo community some great instructional materials in the very near future.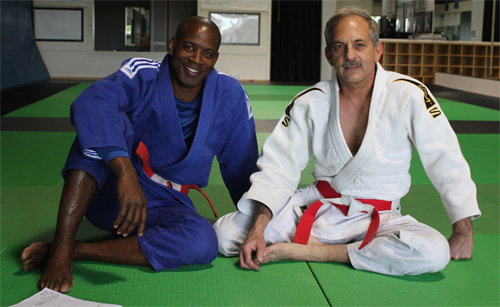 Israel Hernandez and Gerald Lafon
The effort starts with reviving the Everything You Should Know About DVD series that began with the very successful in-depth look at Seoi Nage a few years ago.  Volume 2 of the series, available in September 2014, presents Uchi Mata like no other product has before.  When was the last time that you were encouraged to master four foundational techniques before you embarked on learning Uchi Mata?  Probably never, right?  Well, Israel Hernandez has developed a pedagogical approach to mastering Uchi Mata that you've got to see.
Already in the oven is Volume 3 of the series- Yoko Tomoe Nage- due in January 2015.  All volumes are shot in HD by J. Flores Productions, and are dubbed in English, Spanish and Japanese.  Each volume presents the grips, variations, defenses, counters, combinations, common mistakes and supplemental exercises associated with each technique.
Israel and I are also working on a beginners program, coaching manual, warm-up exercises, and my very favorite because it represents a foundational skill so very seldom touched upon in training, Tai Sabaki.
WWW.isvael.com, under reconstruction at this time, will be the go to site for ordering information.
Source: BetterJudo.com : Exciting Partnership | 27 Jul 2014 | 2:53 pm

Judo Crazy : 2014 Chelyabinsk World Championships Preview - 66kg
Japan's
Masashi Ebinuma
might be ranked 3rd but he's by far the best bet for the gold medal. Principally a left-handed player, Ebinuma likes to do drop morote-seoi-nage and uchimata to the left. In recent years, he has also developed a reverse seoi-nage to the left.
He won the 2013 Rio World Championships final in grand style although he was seriously injured by Kazakhstan's Azamat Mukanov, who had launched a series of waki-gatame attacks, one of which looked like it was going to result in a broken arm. (It's surprising the referee didn't stop the match and disqualify Mukanov for attempting what looked clearly like an illegal attack). Though in obvious pain, Ebinuma summoned the fighting spirit to launch an ouchi-gari that landed the Mukanov flat on his back for a massive ippon. It was obvious which player the crowd was rooting for when it roared its thunderous approval at the outcome.
The last time Ebinuma lost in an international event was the 2012 London Olympics when he was defeated by eventual champion
Lasha
Shavdatuashvili
of Georgia, whose unorthodox sacrifice technique caught the Japanese off guard for ippon. The Georgian has recently been fighting at -73kg though. In any event, he had a serious knee injury at the 2014 Budapest Grand Prix (via Hans van Essen of JudoInside.com)
Interestingly, Ebinuma has twice lost to Mongolia's
Khashbaatar
Tsagaanbaatar
, in 2012 and 2011, but the Mongolian has already moved up to -73kg. Another player Ebinuma has had problems with is Russia's
Musa Mogushkov
, who twice beat in 2011. But the Russian too has moved up to -73kg.
The players that will give him the biggest challenge in Chelyabinsk are likely to be the unorthodox Russian
Mikhail Pulyaev
and the crafty Ukrainian
Georgi Zantaraia
. Ebinuma and Pulyaev have fought twice, with one win each. Ebinuma has never fought Zantaraia who has just recently moved up to -66kg (but has adapted remarkably well).
This weight category is full of really solid players who could upset the favourites. This includes Brazil's
Charles Chibana
and Mongolia's
Davaadorj Tumurkhuleg
. It seems that France's top player in this category
David Larose
is injured and won't be competing. He too would have been a tough challenger. Hans van Essen of JudoInside.com tells me that Japan's little-know
Kengo Takaichi
could be a dark horse.
Source: Judo Crazy : 2014 Chelyabinsk World Championships Preview - 66kg | 27 Jul 2014 | 1:44 pm

Cuaderno de Bitácora del Club Forum : Feliz cumple Joaquín
Hoy es el cumpleaños de Joaquín Benavente. Este año Joaquin ha estado más dedicado ha ayudar y aprender. Ambas cosas muy importantes. En muchas ocasiones ha sido un gran apoyo de MariJ. Entre ellos existe un vínculo muy afectivo pues …
Sigue leyendo

→
Source: Cuaderno de Bitácora del Club Forum : Feliz cumple Joaquín | 27 Jul 2014 | 12:00 pm